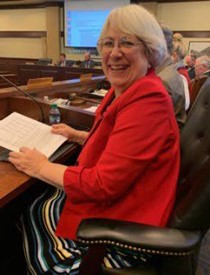 Thyra Kay Stevenson
9/4/1944 — 5/11/2020
State Representative Thyra K. Stevenson, 75, passed away peacefully the morning of Monday, May 11, 2020.
Thyra Kay Stevenson was born in 1944 in Palo Alto, Calif., to Gladys and Lloyd Stevenson. When she was 13 years old, her father moved the family to Lewiston where he worked for Potlatch Forests as director of organizational planning and acquisitions. Her mother, a former teacher and librarian in Washington and California, worked for the local YWCA and the Lewiston Morning Tribune.
Together with her sisters, Gail and Seja, Thyra grew up an outdoor enthusiast. The three girls grew up in a house their father built in Los Altos Hills, Calif. They loved horses, learned how to shoot as youngsters, climbed trees and were both avid campers and lifelong Girl Scouts. Her parents grew apricots and other stone fruit, which inspired the girls' lifelong passion for gardening, home farming and agriculture. Thyra graduated valedictorian from Lewiston High School in 1962. She went on to earn her Bachelor of Arts in Spanish from Boston University. She earned a certificate in Spanish from the University of Madrid as part of her Master of Arts program at New York University. She also earned a Ph.D. in Latin American literature from the University of Washington.
Thyra was an optimist and never missed an opportunity to pursue a new and exciting path. After her university studies, she moved to California to join her parents who had returned to the Golden State. She taught both high school and college Spanish for more than a decade. She left teaching to join Amdahl Corp. in Santa Clara in a corporate communications role. It was at Amdahl that she met her husband of nearly 40 years, Walter Greenham. Together, the two cared for their children and enjoyed annual camping trips to Big Basin, Disneyland visits and trips to Mexico for R&R, where Thyra's favorite activity was reading mystery books in the warm sun under a palapa. They bought Los Gatos Cyclery and became an active and beloved part of the Bay Area biking community.
In the early '90s, Thyra became a pilot and began a new career flying large transport jet airplanes, becoming certified to fly DC9, 727, 737, 757 cargo planes.
In the early 2000s, Thyra and Walter were blessed to become grandparents to five grandchildren and went on to enjoy park visits, birthday parties, vacations and holidays with them throughout the years. Thyra and Walt retired and returned to Lewiston, where they enjoyed the slower pace of life. She and Walt supported the local FFA in a variety of roles and with annual events. Thyra, ever an active community member, took on a multitude of projects and volunteer roles. She was a member of the Lewiston City Council, on the Airport Commission and an ordained church elder. She was a member of the ​Nez Perce County Republicans and the Nez Perce County Republican Women's Club.
Thyra joined the United States Coast Guard Auxiliary, where she served as aircraft commander, flotilla commander and chief information officer. She learned to play the bagpipes, and her first experience piping was in the Coast Guard pipe band. One of her great joys was playing the bagpipes in Lewiston parades.
"Do a Good Turn Daily" — Girl Scout slogan.
"My mother, my two sisters and I were all Girl Scouts. Some favorite times were at Girl Scout camp at Farragut ... very special events only in Idaho. I wake up every day determined to do my part to provide a better life for District 6 constituents." – Thyra K. Stevenson, state representative.
In 2012, Thyra was elected to her first term for the Idaho House of Representatives, District 6. She sat on the Agriculture Committee during her tenure in the House and loved it. She saw real value in what local farmers were doing and was impressed with nearby colleges and the effort they were putting into ag research. She was lucky enough to attend several ag trips, and once even barged down the Snake River to the Columbia River to learn how the grain from our region is sent to market. She wanted to make sure any legislation she had in front of her supported agriculture, and she won awards many years in a row as an "Ag All-Star." As a nod to her mother's career, she partnered with the Molina Foundation to promote reading and put new books in the hands of many young children in her district. In 2016, Thyra was reelected to the Idaho House of Representatives, and in 2018 she went on to proudly serve a third term.
In the years following the passing of her husband, Walt, in 2015, Thyra was blessed to be surrounded by a lively community of friends, many of whom were like-minded outdoor enthusiasts — river boaters, helicopter pilots, farmers and fishermen. Together they explored, adventured and enjoyed the beauty of the region. Her friends were a great support to her during her campaign for a fourth term as Idaho State House Representative.
Thyra would be thrilled to know that, in honor of our country's great and selfless health care workers during this difficult time, Fairchild Air Force Base did a spectacular multiple-jet flyover of the Kootenai Health where, alongside her daughter, Astrid, and her stepdaughter, Molly, she was cared for until her peaceful passing.
Thyra's immediate family will celebrate her life with a private memorial.
Service Information
Date & Time

Thursday, June 11, 10:00 AM

Additional Details

The celebration will be held via Zoom on June 11 at 10:00 AM Pacific time. To attend the event, you must register in advance. Please use this link: https://www.virtualmemorialgatherings.com/memorial-services/memorial-for-thyra-k-stevenson
Condolences
Cody and Candy Abbott
We are so sorry for your loss. Your Mom was a unique and interesting person who experienced so many wonderful things and let no grass grow under her feet. Always a learner and teacher!
Thursday, May 14, 2020 4:54 PM
Offer Condolences