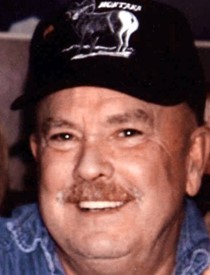 Tom Anderson
11/24/1950 — 3/2/2021
On Tuesday, March 2, 2021, heaven called Tom Anderson home to join his heavenly family. We know for sure that our momma Frankie was there waiting to greet him home with wide-open arms.
Tom was born Nov. 24, 1950, in Lewiston, to Kyle and Frankie Anderson. He was the first Anderson grandson and the first of their three children. Tom's parents divorced when he was 7, so he tried to help out his mom the best he could and to be a good big brother to his two siblings.
Tom graduated from Lewiston High School in May 1969. Right before he graduated, he came home and announced to his family that he and two of his buddies had joined the U.S. Navy. Our mom wasn't very happy with his decision as the Vietnam War was going on, but that was his decision and she respected it. He went to San Diego for boot camp and then was assigned to the USS Midway from 1969-73 and was in Vietnam, Japan, Hong Kong and the Philippines.
After his four years of military service, he came back to Lewiston and began driving a concrete truck for Lewiston Pre-Mix. Tom then went to work for Charlie Rake, first as a hod carrier, then an apprentice bricklayer and finally a journeyman bricklayer. He worked for Charlie for about 25 years.
Tom moved to Spokane, joined the union and did masonry work in several different cities and projects in the Northwest. While working in Spokane, he bought property in Haugan, Mont., where he and some of his friends helped him build a shop to store all his tools and toys. He loved spending time at his property, whether he was riding his four-wheeler or side-by-side, or having dinner and drinks at the 50,000 Silver Dollar Bar.
He retired in 2012 and moved back to Lewiston full time. In 2017, he was diagnosed with lung cancer and that began his struggles with his health. May 2018, he and his high school friend, Jim Braddock, took a trip to San Francisco and toured the USS Midway, which is now a museum. They both so enjoyed the trip and Tom was very happy to get to see the Midway again as a civilian this time. Thank you, Jim, for helping make this trip possible.
On Tom's bucket list was to go spend a few days in Reno during the Super Bowl and bet on the game. He made that trip in February 2020 and made pretty good money on his bets too. He was looking forward to doing it again in the future.
One thing Tom really enjoyed was his "cocktail hour" at Charlie Rake's man cave. He had some really great friends who frequented Charlie's and he always looked forward to his time up there and he didn't miss very often. A big thank you to Charlie Rake and Charlie Frazier who helped get him to his doctor appointments or whatever else Tom needed help with, you guys were always there.
Our mom had struggled for a few years with dementia and Tom lived with her and cared for her up until we moved her to an assisted-living facility last fall. My younger brother and I were so grateful for Tom caring for Mom as she was able to stay in her home until the last six weeks of her life. What a blessing for both of them.
Tom is survived by his sister, Mary Jayne Minnette, and her husband, Jim, and brother Danny Anderson, all of Lewiston. He is also survived by a few cousins and some nieces and nephews. He was preceded in death by his parents.
A celebration of his life will be held later this summer and his ashes will be distributed at Dominion Peak in Montana.
Offer Condolences