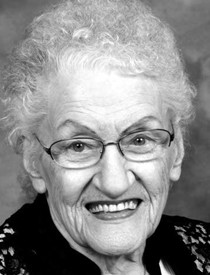 Verdene Watson
4/22/1926 — 7/28/2017
Verdene Watson passed away Friday, July 28, 2017, at age 91, at Royal Plaza Retirement Assisted Living Facility in Lewiston, where she had been since May 2016.
Verdene was born April 22, 1926, at Stites, to LeRoy and Hazel Swinehart. Her mother, Hazel Lohrey, was born in St. Croix, Wis., and Verdene's father, Leroy Swinehart, was born in Plymouth, Ind.
Verdene's family moved from Stites to Battle Ridge and then back to Stites, where she graduated in 1944. Shortly thereafter, she married Arland Brotnov on June 18, 1944, at Pleasant Valley and soon moved to Portland, where Arland worked in the shipyards during the war. They had two children, Bruce Arland and Brenda Marie.
Verdene's family moved back to Clearwater after the war, and then to Stites in 1953 and on to Kamiah in 1958. They started the Kamiah Baptist Church (first in the county) after renting the International Order of Odd Fellows lodge for a few years. Verdene worked as a custodian for Potlatch Forests Inc. from 1958 to 1960, and then as a teller for First Security Bank from 1961 to 1968, followed by two more years in the office for Potlatch Forests. In 1970, Arland accepted a pastorate at the First Baptist Church in Oroville, Wash. He preceded her in death on March 17, 1973, and then Verdene returned to Kamiah, where she worked and retired from First Security Bank in 1987.
On Aug. 17, 1976, Verdene married Emil Kanniainen and they lived in Kamiah until Emil preceded her in death on March 10, 1989.
Verdene then married Milton "Mick" L. Watson on April 26, 1991, and they moved to a home in the Lewiston Orchards shortly afterward. Verdene was actively teaching and ministering in Emmanuel Baptist Church, where they were members. Mick preceded her in death Jan. 13, 2014.
Verdene was also preceded in death by her parents, and brothers Herb and Verle. She is survived by her two children, one granddaughter and three great-grandchildren. Verdene also leaves behind five stepchildren and several stepgrandchildren.
Our mom never met a stranger and witnessed about Jesus Christ to everyone she met. Her favorite day of the week was Sunday, so she could go to church and fellowship with those in attendance. She was an inspiration to so many and greatly missed by all as she really enjoyed life. Her passionate sharing of her Christian faith touched so many through the years.
Please join us in a memorial service at 10 a.m. Aug. 10 at Emmanuel Baptist Church, at 2200 11th Ave., Lewiston. Rev. John Stroupe will be officiating, with lunch to follow. In lieu of flowers, it is suggested to give to the Royal Family Kids Camp in care of Emmanuel Baptist Church; or your favorite charity.
Service Information
Date & Time

Thursday, August 10, 10:00 AM

Location

Emmanuel Baptist Church
2200-11th Avenue
Lewiston, Idaho 83501

Get Directions
Offer Condolences