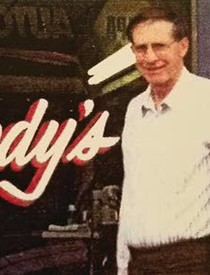 Verl I Tweedy
5/7/1927 — 6/24/2018
Verl Ivan Tweedy, 91, a long-term resident of Lewiston, passed away while surrounded by family and friends Sunday, June 24, 2018.
Loved ones remember Verl as a wonderful storyteller with a great sense of humor. Verl lived well and always had a smile.
Born on a farm near Kooskia, Verl was the sixth of nine children. His daily chores included starting the morning home fires, feeding livestock and milking the cows before breakfast. His childhood on the farm taught him the value of hard work, which he brought to his business life and made him an excellent provider for his family.
Verl was a veteran of World War II, drafted into the U.S. Army in 1945. After completing basic training he served his country in Inchon, Korea, where he was stationed for 18 months. Verl recalled to his children that he was taken there by boat with 7,000 other troops, and the journey took 23 days. When asked about his time in the Army, he told his children to "be careful when you volunteer." The day after he landed in Korea he volunteered to help with "transporting materials," he assumed as a truck driver, but instead was handed a wheelbarrow.
After being honorably discharged from the Army, Verl returned to Kooskia, where he got jobs in sawmills and logging camps. In 1948, he enrolled in a six-month course at a barber college in Boise. After completing his education he worked at, and later owned, a barbershop on Main Street in Lewiston for more than 50 years. Locals remember Tweedy's Barber Shop as a place for laughs, practical jokes and big stories at a time when barbershops were for men only. And, yes, for great haircuts.
Verl held an interest in building a strong community, and he volunteered time to help build the Nazarene church in Lewiston. He is remembered as a caring friend, and he made house calls to cut the hair of friends who were ill. Verl's children and grandchildren remember spending happy Christmas Eves at his home, where he played jokes on his grandchildren using creative wrapping techniques and taping small bowls of macaroni to the inside of the boxes before wrapping them so that the children could not guess what was in the box.
Verl married Jeanne Hanson on May 8, 1995, and they were able to spend 23 happy years traveling between Lewiston and Arizona as snow birds. Verl is survived by Jeanne; two sisters, Helen and Ethel; his two children, Doug and Dianna; four grandchildren; and three great-grandchildren.
A memorial will be held at 2 p.m. Friday, July 20, at Vassar-Rawls Funeral Chapel, 920 21st Ave., Lewiston.
In lieu of flowers, donations may be made to the Idaho State Veterans Home in Lewiston.
Service Information
Date & Time

Friday, July 20, 2:00 PM

Location

Vassar-Rawls Funeral Home
920-21st Avenue
Lewiston, Idaho 83501

Get Directions
Offer Condolences