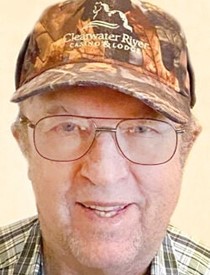 Victor E. Sisson, Jr.
9/9/1938 — 1/11/2023
Victor E. Sisson Jr., 84, passed away Wednesday, Jan. 11, 2023, at the Emergency Room at St. Joseph Regional Medical Center in Lewiston, with his brother David by his side. Victor was born in 1938 to Anna Mae and Victor Sisson Sr., at the Klamath Agency in Oregon. Mom raised four successful children, and Dad was a Bureau of Indian Affairs (BIA) Fire Control Officer. Victor had three sisters and one brother. Barbara and Phyllis live in Oregon, Helen passed away when she was a baby, and David lives in Cottonwood.
Victor loved the outdoors and nature. When he was 4 years old, he met Richard "Dick" Siemens, and a lifetime of friendship began as they spent many a day hunting ducks, geese, elk and deer. He participated in 4-H and focused on showing his steer. His steer disliked everyone but Victor and his mom said she was glad when he got rid of "that thing." He excelled at being a Boy Scout and an Eagle Scout and attended many jamborees from Ottawa to southern California, which gave him the opportunity to meet people from across the United States and other countries.
Victor graduated from Chiloquin High School in Oregon and lettered in multiple sports. Being a southpaw had its advantages. He went on to attend Oregon State University and got his bachelor's degree in forestry. He started his career with the BIA which allowed him to work and explore different locations throughout the west. He eventually took a permanent job at the North Idaho Indian Agency in Lapwai, in 1960. He was in charge of the forestry program on the Nez Perce Reservation and the Coeur d'Alene Reservation. Victor strived to manage the lands to preserve trees for future generations while generating income for the Tribes. From 1960-66, he served in the Air National Guard of Washington which took him to various states.
He continued to hunt and fish in Oregon and always made it home for Thanksgiving.
It was the day before Thanksgiving when a duck hunting trip was undertaken. It was below freezing that morning, with thick fog. While crossing Agency Lake near Chiloquin, his small, overloaded aluminum boat sank and settled to the bottom in a shallow area. Everyone had to stand on the seats in hip boots, and Victor decided he would swim to shore for help.
He emptied a gas can and tightened the lid, tied a parachute cord around it and put it over his shoulder so it would float behind him. He stripped down and slid into the freezing water and began his half-mile swim to the shore in the thick fog. He moved the gas can around front and used it for flotation when he needed to rest. Once he got near a dock, he called out for help. A blind woman came out of her house and was able to call for assistance.
Victor was taken to the hospital with hypothermia and one foot never completely recovered. He saved the lives of three people and himself that day.
Victor became good friends with Benjamin "Badge" Arthur and they hunted together for many years. Their friendship continued, with them getting together often. They were on a bowling team that won the Banana Belt tournament one year, with the help of some Lucky Lager. He was involved with various athletic groups. He also helped Badge with his fireworks stand and was in charge of managing the funds and would supply other stands in the Lapwai area. In 1987, Victor married Badge's sister, Helene McAtty, who had three children — Sonny, Jane and John. Helene passed away in 2019.
Victor enjoyed the people he worked with at the BIA and the Tribal departments. He played Town Team baseball with Bob Sobotta in the early 1960s and served as Bob's best man at his wedding.
When Victor retired from the BIA, he devoted more time to the Sacred Heart Catholic Church and was a devout member. He served on Parish Council and was also a sacristan for the church. He would arrive early and lead the rosary before Mass. He took care of the St. Kateri meeting hall and was the contact to reserve the hall for various groups. He would shovel the sidewalks in the winter and get the church ready for funerals. He helped organize and cook for many of the church fundraisers.
Throughout his life, Victor enjoyed hunting and fishing with family and friends and attending gatherings. He was an excellent marksman, tied his own flies, hiked to high country lakes to fly fish, and continued to hunt waterfowl, deer, elk and moose with Dick. On a trip to the Weitas country, they found an abandoned cat along the road. Since Victor loved animals, he took the cat home and it became known as Weitas Kitty and lived to an old age. Victor could be seen walking his dogs every day … or as he said, they took him for a walk.
Victor was known as someone who was good-natured, trustworthy and always willing to help others. He assisted people with their electric bills just before their power might be turned off, would help pay others' vet bills, and he cut and hauled firewood for those who needed help. If someone's car broke down or they needed a ride to work, they would call Vic. He was Godfather to many people in Lapwai and enjoyed sharing his knowledge of hunting, fishing and camping life.
He was also known as a trickster and would be the first to throw a snowball or tie someone's coat sleeve in a knot at work.
Victor will be missed and remembered by many. A funeral Mass will be celebrated at Sacred Heart Catholic Church in Lapwai at a later date.
Offer Condolences