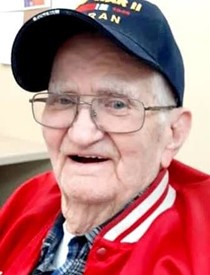 Wallace D. Rugg
3/8/1923 — 12/18/2021
Wallace D. Rugg, 98, known to his family and friends as Wally, passed away Saturday morning, Dec. 18, 2021.
Wally was born March 8, 1923, in Cabri, Saskatchewan, Canada. Dad was the third of seven children born to Clarence and Ella May (Humphrey) Rugg.
When he was four, Dad's family moved to Peck. He graduated from Peck High School in 1942. Dad met Louise Conard in 1946, and they were married in August of 1946. They raised three children together, John, Marilyn and Patty. They later divorced and Louise passed away in 2002. In 1993, Dad moved from Orofino to Lewiston to be closer to his son and two daughters. Dad lived at the Highlander Apartments in Lewiston for several years before moving to Wedgewood Terrace because of health reasons. At the time of his passing, Dad was living at Royal Plaza Rehabilitation Center in Lewiston.
Dad served in the U.S. Army from January 1943 through January 1946, stationed in St. Petersburg, Fla., during his basic training and later discharged at McCord Air Force Base. He was with the combat aviation engineers who built airfields for fighter planes taking part in the New Guinea and Southern Philippines campaigns during World War II. Upon his discharge from the service and his return home to Orofino, he joined Harold Kinne Veterans of Foreign Wars Post 3296. One of Dad's first jobs after returning home from WWII, was driving a laundry truck, and then he was hired at the Clearwater Tribune in Orofino in December of 1946. Dad apprenticed and worked his way up from a printer's devil to a career as a pressman and compositor. He worked for six years before becoming a journeyman printer. He received on-the-job training through the GI Bill and retired from the Clearwater Tribune as a printer after 27 years of service.
After his retirement, Dad spent enjoyable times mushrooming, picking up cans or a quick trip to Reno. He logged the hundreds of pounds of cans he collected that were later delivered to the recycling center in Lewiston. A particular enjoyment came from his many hours in the outdoors mushrooming with friends.
On Sept. 11, 2020, Dad was honored by the Harold Kinne Post 3296 VFW and Auxiliary members as a dedicated member of the Veterans of Foreign Wars for more than 75 years and was presented with a nice plaque and 75-year pin to commemorate the occasion. It was an unforgettable day for Dad to be honored by the VFW. John, Marilyn and Patty were also in attendance to see their dad receive this award. Dad was very involved in the VFW, where he was commander of VFW Post 3296 in 1978-79 (lifelong member) and post quartermaster from 1989-90 and went through the chairs in the Oddfellows organization (lifelong member). In May 2019, Dad was honored at Wedgewood Terrace with a quilt of honor for his military service.
Of special importance to Dad was his time attending meetings and the other various functions he attended at the VFW building. Dad always felt a deep connection to the members of the VFW Post and the entire community. It was truly a gift for him to receive the plaque and pin for his 75 years of service and the visit with old friends and family.
In the past, when Dad was not watching his favorite team playing baseball, he was in the kitchen preparing fish, vegetables and fruit to add to his pressure cooker. When he relocated to Lewiston, he continued canning fruits and vegetables for himself and others and won several blue ribbons in the Nez Perce County Fair for his perfectly prepared jars.
Dad always treasured time spent with friends to reminisce about his life growing up on the family farm in Peck, service to his country or time with his family. Dad enjoyed fishing with son, John, and other friends and family, playing cribbage, especially Bingo, and a trip to the casino.
After Dad's passing, we have heard so many wonderful stories and heartfelt thoughts from so many of Dad's caregivers as well as staff at Wedgewood Terrace and Royal Plaza. We were so happy to finally be able to visit Dad in recent weeks, which was a delight to him and all of us after such a long delay because of the coronavirus.
Dad will be remembered by all who knew him as saying "you bet-cha, by golly," and most knew him as 'Wally by-golly.' Dad was "Uncle Wally" to numerous nieces and nephews who he always welcomed to stop by for a visit, whether in Orofino or at his home in Lewiston.
He is survived by three children, John K. Rugg (Karen), Marilyn Britain and Patty Rugg-Moran (Kevin); six grandchildren; 10 great-grandchildren; two great-great-grandchildren; one sibling, Joyce Gould; and numerous nieces and nephews. He was preceded in death by his parents; brothers John Rugg and Clarence ("Ki") Rugg; and sisters Marie Wargi, Jean Peer and Doris Harvey.
A family graveside service will be planned at a later date. A memorial service will be held at the Veterans of Foreign Wars in Orofino in the spring. Dad lived more than "98 years of a wonderful life" and will always be loved and missed.
Offer Condolences