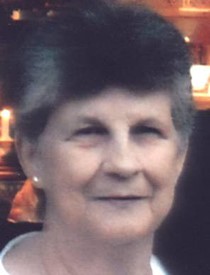 Wanda J. Enger
1/19/1942 — 8/27/2019
Wanda June Enger passed away Tuesday, Aug. 27, 2019, at her home.
She was born Jan. 19, 1942, in Fullerton, Ky., to William and Reba Mullins. She was the youngest of six children; George, Don, Bob, Irene and Inez all had a hand in spoiling their baby sister. When Wanda was just a baby, the family moved to Ohio. When she was a teenager, she moved in with her big sister, Irene, and her family in the Detroit area. This would soon turn out to be a fateful move thanks to one of her favorite activities. Hanging out at the local roller rink one night with best friends, Ruthann and Marcella, a group of young soldiers came in. One particular handsome fella caught Wanda's eye. She soon learned she had captured his attention as well. The soldier gathered his courage and asked her out. After a whirlwind romance, Wanda became the wife of Karl Enger on Oct. 17, 1958, each other's lifelong love.
In August 1959, Wanda gave birth to their first child, Vickie. Soon after this, the family moved to Park, Idaho, where Karl was from.
In December 1961, their son, Johnny, was born. Sadly, they lost him in March 1962. They never had any more children.
Wanda was well known for many things, but especially her love of antiques. Attending auctions was her big addiction, particularly those held by her dear friends, Rene and Gary Lam.
She owned the Bridal Path for several years and enjoyed helping the young ladies prepare for their day. She was a true romantic at heart.
After 57 and a half years of marriage, Karl passed. Wanda was lost without her best friend.
She was preceded in death by son Johnny; parents William and Reba; stepfather Mac Stokes; in-law parents Charlie and Hazel Enger; brothers George, Don and Bob; son-in-law Clark Law; brother-in-law Tom (Irene) Miller; and sister-in-law Linda (Bob) Mullins.
Wanda is survived by daughter Vickie Law; sister-in-law Kathy (Wayne) Doyle; brother-in-law Charles (Carol) Enger; brother-in-law Linn (Judy) Enger; sisters Irene and Inez; sister-in-law Janice Mullins; grandson Clayton; very dear friend Gloria Chicoine; and numerous nieces and nephews.
Memorial donations can be made to the Lewis Clark Animal Shelter.
Per Wanda's request, there will be no service. There will be a covered-dish celebration of life from 12:30-3:30 p.m. Sept. 21 at Sonary Crest Club House, 2015 Sixth Ave., Clarkston.
Service Information
Date & Time

Saturday, September 21, 12:30 PM

Location

Sonary Crest Clubhouse
2015 6th Avenue
Clarkston, Washington 99403

Get Directions
Offer Condolences