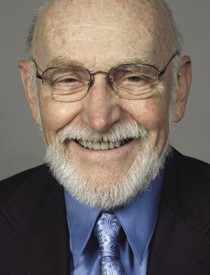 Wilbert "Bill" Hall
5/19/1937 — 5/21/2018
Bill was born to Beulah (Hill) and Wilbert Peter Hall on May 19, 1937, in Nampa, in the same hospital as Steve Symms, but to different mothers, as he used to joke.
He lived on a farm at Kuna near Boise until he was 9 years old, when his father entered the grocery business in Nampa. While growing up, he lived in New Plymouth, Idaho, then in Phoenix for two years before returning to Boise.
Bill graduated from Boise High School in 1955, where he was assistant editor and editorial writer on the school paper under Editor-in-Chief Jim Golden. He won an Idaho State Journal scholarship in his senior year to attend Idaho State College (later Idaho State University) in Pocatello, and served as a columnist, editorial writer and editor-in-chief of the college newspaper, the Bengal. While at Idaho State, Bill joined the Journal staff in the fall of 1957 as part-time reporter, became full time in 1958 and moved up to city editor in 1959. While serving as city editor, Bill began writing the column "Political Scratchpad" and covering politics.
Bill married Carmel Serrano of Pocatello in 1958. Their daughter, Stacy, was born in 1959, and son Michael came along in 1960. The couple divorced in 1980.
His deep interest in politics led him to become the Journal's political and education writer in 1961, a role that took him around the state and the West. He covered multiple sessions of the Idaho Legislature, state political conventions, the Western States Republican Conference in Sun Valley in 1961, the Western States Democratic Conference in Salt Lake City in 1963 and the Republican National Convention in San Francisco in 1964.
Bill took his longtime position with the Lewiston Morning Tribune on May 16, 1965, when the Tribune declared "Newsman Arrives."
Bill married his devoted wife, Sharon (Henderson) Taylor, in 1985. Bill and Sharon had a wonderful life together for 35 years, traveling, gardening and entertaining.
Civic involvement was an important topic for Bill in his early years as a newspaperman. He was a member of the Pocatello Lions Club, an officer in the Idaho Press Club, a member of the Pocatello Civil Rights Committee, a charter member of the Capitol Correspondents Association in Boise and a board member of the Idaho State University Alumni Association, as well as a Dogwood Festival ambassador here in Lewiston.
Bill is predeceased by his parents and his sister, Lois Dyer. He is survived by his wife, Sharon; his brother, Bob Hall (Diane); his sister-in-law, Muriel Crawford (Barry); and his brother-in-law, Jack Henderson (Shirley). He is also survived by his children, Shannon Taylor Scarlett (Tim), Stacy Gay Hall, Michael William Hall, Michael John Taylor (Tina), David Arnold Taylor (Jose), and Steven Lee Taylor (Lily); 12 grandchildren, Dustyn Deakins (Sonya), Aaron Deakins (Ashley), Joseph Hall (Sarah), Kevin Eggers (Taryn), Amelia Scarlett (Josh), Caroline Eggers (Keelan), Lauren Scarlett (Perry), Alisa Hall (Spencer), Mikey Hall, Kenny Hall, Jesse Hall and Roman Taylor; seven great-grandchildren, Audrey Deakins, Jaxon Deakins, Payton Deakins, Abigail Hall, Mickey Deakins, Aurora Hall and Jaxon Rhodes; and several loving nieces and nephews, along with his beloved coffee klatch and many other friends and fans.
His gravestone will read:
Here lies the great Bill Hall
Journalist, Humorist, Defender of Human Rights.
He loved to make people laugh.
A memorial service will be held at 1 p.m. Saturday, June 2 at Valley Christian Center, 3215 Echo Hills Drive, Lewiston.
The family requests that any donations be made to the Friends of the Dogwood Festival, www.lcsc.edu/ce/dogwood/friends-of-the-festival; Community Action Food Bank, www.cap4action.org; or the ACLU, www.aclu.org.
Service Information
Date & Time

Saturday, June 2, 1:00 PM

Location

Valley Christian Center
3215 Echo Hills Drive
Lewiston, Idaho 83501

Get Directions
Condolences
Willuams Family
Condolences to the Hall family. Our thoughts and prayers go out to your whole family. Psalms 147:3 says God, "heals the broken hearted, and binds up their wounds." May God bring you comfort and peace.
Wednesday, June 20, 2018 8:03 AM
Richard Des Ilets
I am deeply saddened by the loss that you and your family have encountered. My condolences
Sunday, May 27, 2018 1:13 PM
Offer Condolences