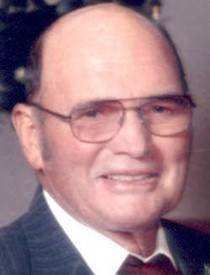 William B. Jackson
2/17/1931 — 5/11/2019
William "Bill" B. Jackson, 88, of Fraser, passed away Saturday, May 11, 2019, at Providence Holy Family Hospital in Spokane.
Bill was born Feb. 17, 1931, in St. Edward, Neb., to Paul and Irene Jackson. At the age of 6, he and his family moved to Idaho, where they purchased timber and farm land in the Fraser area. As a young boy and teenager, he helped his parents log, farm and raise cattle and hogs to make their living. Bill carried on these same traditions in his adult life.
Bill attended Cottonwood School in Fraser and Weippe High School, where he graduated in 1949. On Oct. 16, 1952, he married Donna Hayes at the family farm in Fraser, where they made their home for the next 60 years. During this time, they raised their three children, Sherry, Dianna and Dennis. Along with farming and raising cattle with his wife, Donna, Bill also worked for the Clearwater Highway District, Schmidt Brothers Logging, Fromelt Logging and Power City Construction.
When his father passed in 1967, Bill took over the family farm, where he farmed and raised cattle with his brother, Mick. Their agriculture operation earned them the 1969 Grassman of the Year honors in Clearwater County; they went on to compete for the Idaho state title. In 1996, he retired from farming, but continued raising cattle until his eyesight forced him to quit. Bill and Donna moved to Lewiston in March of 2013.
Bill served on the board of directors for the Clearwater Soil and Water Conservation District, Nezperce Rochdale Co. and Clearwater Highway District for several years. He was a member of the Fraser Grange and served as a 4-H beef leader.
Bill's love for farming and raising cattle never ended; he enjoyed reminiscing about both to whomever would listen. In his last few years, he especially liked giving advice to his granddaughter and great-grandchildren about their 4-H beef projects, and watch them show and sell their steers at the county fair.
Bill's favorite pastimes were spending time with his family, eating the delicious food his wife cooked, visiting or helping out a neighbor, hunting, camping at Fish Lake, listening to music, especially the old time fiddlers, listening to talking books, watching Gonzaga basketball and Seattle Seahawk football and having Norma's Fraser News read to him.
Bill was known to have a gift to gab, and his children and grandchildren often wondered if there was anyone who could out talk him. Bill was a hard worker, but loved what he did and he was always the first one there when someone needed a helping hand. As a family, we thank you Dad and Grandpa for all you taught us. We miss you and love you, and you will always hold a special place in our hearts.
Bill was preceded in death by his parents, Paul and Irene Jackson; wife Donna; granddaughter Morgan Jackson; brother Mick; sisters-in-law Darlene Jackson and Fay Barbee; and nephew Rick Hayes.
He is survived by his daughters, Sherry (Larry) Schlader, Dianna (Bill) Funke and son Dennis (Candy) Jackson; brother-in-law Ed Barbee; grandchildren Heather Haworth, Chad Koppel, Dustin Rodgers, Mackenzie and Makayla Jackson, Kimberly, Alexis and Richard Jackson; great-grandchildren Whitney, Mallory and Sophie Haworth, Gavin and Claire Koppel, Ciarra and Hailey Rodgers and Kaycee Morgan Templeton; as well as many nieces and nephews.
A service honoring Bill's life will take place at 11 a.m. Saturday at the Fraser Community Center. Burial will follow at the Weippe Cemetery. A dinner will be held at the Fraser Community Center following the services.
Memorials may be made in Bill's honor to the Weippe Ambulance fund, P.O. Box 586, Orofino, ID 83544; the Fraser Community Center, Peggy Ball treasurer, 2370 Thornton Road, Orofino, ID 83544; or to a charity of your choice.
Service Information
Date & Time

Saturday, May 18, 11:00 AM

Location

Fraser Community Center
2370 Thornton Road
Orofino, Idaho 83544

Get Directions

Additional Details

Burial will follow at the Weippe Cemetery.
Offer Condolences