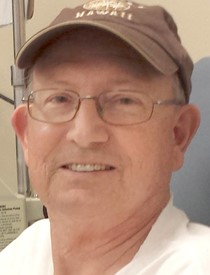 William "Bill" F. Ritz
9/4/1945 — 8/3/2019
We lost a loving husband, dad, grandfather, brother and friend Saturday, Aug. 3, 2019.
William "Bill" Ritz, 73, passed away at Brookdale Assisted Living from complications of myelodysplastic syndrome, surrounded by his loving family and friends.
Bill was born Sept. 4, 1945, in Lewiston, to Robert and Lesley Ritz. He graduated from Lewiston High School in 1964 and shortly after graduation, enlisted in the U.S. Navy. Bill spent four years proudly serving his country at various duty stations and one tour of duty in Vietnam.
After discharge from the military, he started employment at Potlatch Forests Inc., (now Clearwater Paper) in 1970, as a hand loader and, with some change in technology, lumber was later loaded by forklifts. After 39 years of employment, mostly in the Lumber Shipping Department, he retired in 2009.
Bill and Sharon Gilliam were married in 1971 and had just celebrated their 48th anniversary prior to his passing. In 1976, their daughter, Darcy, was born. In 1980, Mindy joined the family, and the family adventures began. Camping, fishing, hunting — Bill taught us all the basics of the outdoors. He was very proud of his daughters and their accomplishments.
He is survived by his wife, Sharon; daughters Darcy Henderson (Percy) and Mindy Ritz; and grandchildren Jayden and Taylor Henderson. He is also survived by his mother, Lesley Ritz; sister Arlene Box (Blaise); brother-in-law Gary Gilliam (Bev); and cousin Jim Minnette (Mary Jayne).
He was preceded in death by his father, Robert; grandparents Leora Harrington and Fredrick Ritz and Fredrick and Elizabeth Minnette; and in-laws Howard and Irene Gilliam.
A graveside service will be at 11 a.m. Tuesday at Lewis Clark Memorial Gardens.
His family would like to thank the staff at Brookdale Assisted Living and Elite Hospice for their loving care.
Offer Condolences