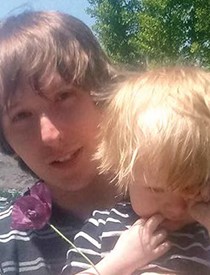 William C. Grayson, Jr.
5/29/1991 — 1/25/2018
William "Billy" Grayson Jr. of Lewiston was taken from his family and friends Thursday, Jan. 25, 2018, at St. Joseph Regional Medical Center, from medical complications produced by a long and difficult struggle with addiction.
Billy was born May 29, 1991, in Spokane, to Will and Sheila Grayson (Key). He graduated in 2010 from Lewiston High School, where he would consistently wreak havoc with his friends in "Everyday Life in the Ghetto." After high school, he aspired to be an Airborne Ranger, but was discharged for his asthma (a serious point of contention with him).
Instead, he started work at Main St. Grill in 2011, where he met his wife, Constance Vance. After a fateful 21 run and a week of pestering, she finally submitted to his requests to "hang out." They were married two years later. Their son, Leo, was born Nov. 19, 2014. Billy played the Green Power Ranger to Leo's Blue, and the two were inseparable during their superhero playtime.
He was kind, generous and compassionate to a fault (a trait he received from his mother). In spite of his allergy to cats, he brought in three strays to join the two already in the house, and thoroughly enjoyed/regretted suffering the consequences. Billy dearly loved Mountain Dew, Reese's Peanut Butter Cups and working on cars that were not European (a specification passed to him by his father). He also loved "competitive" mushroom hunting, going to the beach with his family and video games.
He is survived by his parents, wife, child, sister Traci (Lucas) McFarland, and his sweet nieces, Kissa and Kaylee McFarland, London and Brooklyn Eldridge; and of course, five cats. He also is survived by a large and loving family (thank you, Grandpa Leo).
Billy will be known for having the kindest, sweetest, wiliest soul. Sadly, addiction is not selective of who it takes from us. For those struggling with addiction, resources can be found by calling 1 (800) 662-HELP.
A heartfelt thank you to the emergency responders and the staff of SJRMC, particularly those in the Intensive Care Unit. Your care and compassion made our tragedy a little bit more bearable.
A celebration of life is planned for Billy's birthday on May 29, 2018, with details to be provided closer to the date.
May the Force be with you, Billy. Always.
Condolences
Desiree Williams
So very sorry for your loss
Saturday, February 17, 2018 5:27 AM
Desiree Williams
Will , Sheila ,Traci and family ,
My heart goes out to each of you all dearly .
So very sorry for your loss and may God rest his loving hand's upon you during this horrible and tragic time.
I didn't get to know Billy as a adult, husband or , father BUT, I sure did hear lots and lots of great things about him from his uncle Daniel Paul Key .
He is definitely going to be missed by all
Saturday, February 17, 2018 5:26 AM
Offer Condolences