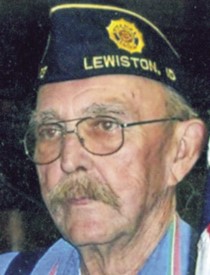 William G. Ankney
2/19/1934 — 1/8/2018
Bill Ankney, 84, passed away Monday, Jan. 8, 2018, at the Idaho State Veterans Home in Lewiston. Bill was born Feb. 19, 1934, to Albert and Bessie (Bonnalie) Ankney in "that old house along the crick in Sweetwater." His memory will live on from all the stories of the Ankney boys and their antics (from outhouse tipping to stealing one of Mom's chickens to have her cook for their dinner.)
Bill grew up in Sweetwater and attended school in Lapwai. He worked for farmers in the summer and loggers in the Pierce area during the winters, digging out trees. He worked until he was drafted into the U.S. Army in February 1953. His basic training was at Fort Lewis, Wash., and he was stationed there until his discharge in February 1955.
After his honorable discharge from the Army, Bill worked for Erbs Hardware and Highland Market as a meat cutter. In March 1955, he married Carol Miller. They had three daughters: Laura, Cindy and Marilyn.
In 1958, Bill and Carol moved their family to Tacoma. Bill worked for Boeing building KC-135s. He and Carol later divorced.
In 1959, Bill worked briefly as a correctional officer in Lompoc, Calif. In 1960, he married Colleen Morrison in Tacoma. Colleen had three children from a previous marriage: Bruce, Dorothy and Suzanne. They moved to Culdesac, and in 1961 they had their daughter, Delta. During this time, he worked for Howard Logging in Winchester. He then worked for Good Year Tire Co. in Lewiston.
Colleen passed away in 1972. Later, he worked various jobs in Washington, Oregon, California and Idaho, primarily for Fish and Game, which included three years at the Dworshak Fish Hatchery.
In 1974, he married Patricia Martin. Pat had four children from a previous marriage: Kathy, Ila, Rick and Kim Ankney. Together they had a son, James.
Bill loved camping, fishing, hunting and sightseeing in the mountains. He enjoyed spending time at the American Legion and organizing fundraisers.
Bill was preceded in death by his parents, Albert and Bessie Ankney; brothers Dale and Bob; and sister Merle Ulber.
A memorial service will be held Saturday, Jan. 20, 2018, at the Assembly of God, located at 400 N. U.S. Highway 95, Lapwai, Idaho, next to the Lapwai High School running track. The service will begin at 11 a.m. in the church, and the American Legion Post No. 13 of Lewiston will provide an honor guard outside the church directly after the service that will include taps and passing of the flag to the family. This will be followed by a fellowship potluck dinner from approximately noon to 2 p.m. in the church community dining room.
In lieu of flowers, please consider a donation to the American Legion Post No. 13, P.O. Box 683, Lewiston, ID 83501; or the Idaho State Veterans Home Food Drive, 821, 21st Ave., Lewiston, ID 83501-6392. Both of these organizations were close to Bill's heart, and he spent countless hours volunteering to assist their efforts.
Service Information
Date & Time

Saturday, January 20, 11:00 AM

Location

Assembly Of God
400 US 95
Lapwai, Idaho 83540

Get Directions
Offer Condolences