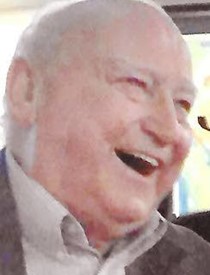 William G. Jollymore
1/20/1934 — 5/15/2020
William Gordon Jollymore was born Jan. 20, 1934, in Sydney, Nova Scotia, Canada. He passed Friday, May 15, 2020, at the age of 86, at Deaconess Hospital in Spokane, after a brief battle with cancer.
Bill is survived by his wife, Loraine Jollymore, with whom he shared 37 years enjoying excellent food, wine and fishing in remote, still waters.
Upon graduating from high school, Bill joined the Canadian Army as a boy soldier at the age of 16, first training as a gunsmith and then becoming an armorer serving in Canada, Germany and Korea. While serving in Vancouver, he spent much of his free time hunting in the Cariboo and Chilcotin regions of B.C., and fishing the Thompson River.
Bill served as president of the Lower Mainland Fish and Game Commission, where he developed his passion for conservation. He separated from the service in Chilliwack, British Columbia, and moved with his wife, Delerene, and their four children to Kamloops, B.C., where he opened and operated the Thompson River Gun and Fly Shop for four years. Bill also guided fishermen on the lakes of the area and spent many hours on the water teaching his children the art of fly-fishing.
After traveling with a friend to Lewiston, Bill fell in love with the area and decided to bring his family to the United States. They arrived Nov. 15, 1967, and Bill started working for Paul Nolte at Lolo Sporting Goods on Main Street in Lewiston. He managed Lolo for 10 years, making lifelong friendships with residents and surrounding wheat farmers who welcomed him to their farms to hunt pheasant, quail and Hungarian partridge. Through the shop, Bill met and became friends with Jack O'Connor, his childhood idol in Sydney and the shooting editor of "Outdoor Life" magazine. They, along with many other friends, spent countless hours together, both hunting in the field and gathering around the fire with a glass of good spirits.
Bill's love of competitive shooting that began in the army matured. In 1972, he won the International Gold Medallion, the runner-up Silver Medallion and the International Championship Trophy in the N.W. United States Modified Clay Pigeon Championships in Renton, Wash.
In 1975, Bill and Delerene divorced and Bill later relocated to the Olympia area. There, he worked as sales manager for Farwest Sports, a wholesale sporting goods company previously located in Spokane. He and Loraine Heffington Murphy, of Olympia, were married in 1982. Soon after, Bill was recruited by Smith and Wesson as district sales manager for Northern California, the Pacific Northwest and Alaska. Bill returned to work with his good friend, Lonnie Schmidt, the owner of Farwest Sports, in 1992. He retired at the age of 69.
After retirement, Bill and Loraine enjoyed a seasonal home on Lac des Roche in the Cariboo region of British Columbia, where they spent 15 years fishing the lake and enjoying the winter snows. They helped form "The Friends of Lac des Roche," an organization of residents opposed to a plan by the B.C. government of developing a residential community on the shores and undoubtedly destroying the quality of a beautiful lake.
After several years of activism, the group celebrated when the province put the plan "on hold indefinitely." They sold their piece of paradise in 2016 and relocated to Clarkston to be close to Bill's children, while continuing to make annual trips to fish and visit with their many friends in Canada.
An avid fly-fisherman, Bill was extremely involved with fishing conservation groups and developed an ongoing commitment to preserving the history of fly-fishing on both the east and west coasts of Canada. He contributed to the establishment of the B.C. Historical Fly-Fishing Gallery of the City of Kamloops Museum, and became an ardent supporter of the Margaree Salmon Museum on Cape Breton Island, Nova Scotia. The Margaree is where he had fished with his father when he was 8 years old, and where he and Loraine fished numerous times the last 20 years of his life. They also regularly participated in fly-fishing shows and expos throughout the Pacific Northwest, where they shared their love of fly-fishing history.
In September 2017, Bill and Loraine had the honor of delivering about 200 tied-in-hand Atlantic salmon flies and the traveling case of the late Harry Lemire, which had been donated by his wife, Marlene Lemire, to the Margaree Salmon Museum. Harry was a good friend as well as a recognized artist throughout the West Coast of the U.S. and Canada for tying these beautiful flies. Bill and Loraine donated a hand-crafted display case to house the collection and Bill flew back that spring to help arrange the exhibition prior to the June opening.
Over the years of working with the museum, Bill became friends with many of the directors, and in 2018, was asked to join the board of directors as a member of the fundraising committee on which he served until his passing.
Bill was preceded in death by his parents, Elmore Lawson Jollymore and Nellie Louise Gordon Jollymore, of Sydney, Nova Scotia.
He is survived by his wife, Loraine Jollymore; three daughters, Deborah Smith, Linda Louise Hudson, (David) and Marilyn Doris Flatt, all of Clarkston; his son, William E.C. Jollymore, of Lewiston; and former wife and mother of his children, Delerene Hazel Jollymore, also of Lewiston; his siblings, Jeannie Alexander and Jayne Conwell, both of Pegosa Springs, Colo., and John Jollymore (Shirley), of Vancouver, Wash. He is also survived by eight grandchildren; five great-grandchildren; stepchildren Kathleen Charpentier, Patrick Murphy, Kevin Murphy, Margaret Ross, Laura Murphy and Shawn Murphy; and numerous cousins in Nova Scotia.
A memorial service is planned at 3 p.m. Nov. 15 at Jollymore's — A Dining Experience, in Lewiston — the date commemorating the emigration of the Jollymore family to the United States. His ashes will be scattered in the Thompson River in British Columbia and the Margaree River in Nova Scotia in the spring.
Bill has asked that in lieu of flowers, donations to the Margaree Salmon Museum would be appreciated. Checks may be mailed to the museum at P.O. Box 46 N.E. Margaree Nova Scotia, Canada BOE 2HO.
Condolences may be sent to Vassar-Rawls Funeral Home at www.vassar-rawls.com.
Service Information
Date & Time

Sunday, November 15, 3:00 PM

Location

Jollymore's: A Dining Experience
1516 Main Street
Lewiston, Idaho 83501

Get Directions
Condolences
Del and Deanne Shorb
The best story teller Del has ever met. Condolences to Lori and his family.....
Saturday, June 20, 2020 11:20 AM
Sherry Steele & FFI Oregon Council
Lori, I will miss Bill as one of the most respectful and ongoing supporters of FFI and our NW Expo. He was always so kind to me and i always felt his honest warm friendship every time we did our greeting hug. His contribution to our Expo will be missed for sure.
Sherry
Monday, June 8, 2020 1:38 PM
Lonnie Schmidt
So many memories of working with Bill starting from when I was 19 years old in Spokane. We were friendly competitors before bill came and started with Farwest Sports in the late 70's I believe. Bill was indeed a friend and committed person to doing the best he could in whatever endeavor he was involved in. My heart goes out to all the family. Lonnie
Monday, June 8, 2020 11:36 AM
Virgie Selga
Our thoughts and prayers are with you and family, God bless his soul, our condolences May Mr. Bill rest in peace
Monday, June 8, 2020 8:55 AM
Fred and Dorothy Heywood
Our deepest condolences to the family. We only had one experience tasting wine with him, but it was a memorable occasion.
Thursday, June 4, 2020 11:13 AM
Paul Reibin
Sincere sympathy to the family, I will miss this good friend of 60 years.
Tuesday, June 2, 2020 3:10 PM
Dan and Linda Olson
Our heartfelt prayers and sympathies are with all of you as you navigate the days ahead without Bill. He sure lived an active and busy life, a life well lived. Much love to you all, Dan and Linda (MacKenzie) Olson
Monday, June 1, 2020 1:42 PM
Greg Hill
My condolences to the whole family. Some of my earliest memories were of the Jollymore family (especially Jean, who took the time to visit with me on her trip east several years ago.) Love and prayers to you all.
Monday, June 1, 2020 6:41 AM
Pat Wall
To Bill's Family:
I only knew Bill for about 6-7 years but, like everyone he met, he left an impression.
His love of the Margaree area and its museum were ever in his heart. A heart that gave much to, I'm sure, everyone he met.
I'll always remember him for his giving, his enthusiasm
for everything he did and his desire "to get things done."
To all of his family my sincere condolences on his passing. I hope time will heal all of you.
He will be missed.
Pat.
Sunday, May 31, 2020 4:14 PM
Francis Walsh
Farewell my friend , I will miss your friendship and our numerous telephone chats . My condolences to Lori and the entire family ..........Frank Walsh St. John's NL Canada .
Sunday, May 31, 2020 3:36 PM
John Hart
Deepest sympathies to Lori and all the family. Bill's passing is a loss of a treasure trove of knowledge, and history.. Rest easy Bill, you've earned it..
Sunday, May 31, 2020 8:38 AM
Offer Condolences