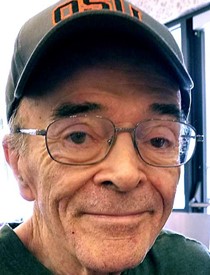 William L. Fearn
6/14/1942 — 9/6/2018
Beloved husband, father, grandfather and brother William Lindsay Fearn passed away peacefully Thursday, Sept. 6, 2018, at Wedgewood Terrace in Lewiston.
Bill was born June 14, 1942, in Byron, Wyo., to Edith Lindsay and William Moore Fearn.
He was an active member of the Church of Jesus Christ of Latter-day Saints. He attended Brigham Young University and received a Bachelor of Arts and a Masters of Arts degrees. Dad was a school teacher for many years in Kodiak, Alaska, and later moved to Clarkston, where he taught at Walla Walla Community College before retiring and pursuing his love of art. He enjoyed painting, reading, watching Westerns and he loved going on adventures, checking out ghost towns and visiting family. Dad loved the outdoors and always dreamed of sharing a cabin with his family on Afognak Island.
Bill is survived by his wife, Mary; his five children, Mary Lynn Winegarden, Patrick Fearn, Todd (Victoria) Fearn, Taletha (Alan) Gertz and Sherra (John) Peterson; grandchildren Amber Winegarden, Devan, Grau and Adam Phillips Fearn, and Skylar, Aiyana and Cayleb Gertz; great-grandson Jasper Grau; and siblings Wilma Cornia David Garth (Georgia Fearn) and Jan (Van) Lofgreen.
Special thanks to Mandy Grice, dad's helper. She means the world to us for her care and support for our dad. You brought so much joy to him and keeping everyone up to date with pictures and videos.
The Fearn family also would like to express their thanks and appreciation to the staff at Wedgewood and Hospice care.
The family suggests donations be made to U.S. Bank in care of William T. Fearn for final expenses.
Offer Condolences