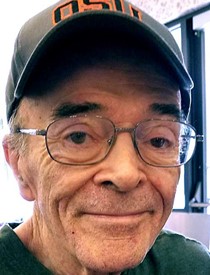 William L. Fearn
6/14/1942 — 9/6/2018
Beloved husband, father, grandfather and brother William Lindsay Fearn passed away peacefully Thursday, Sept. 6, 2018, at Wedgewood Terrace in Lewiston.
Bill was born June 14, 1942, in Byron, Wyo., to Edith Lindsay and William Moore Fearn.
He was an active member of the Church of Jesus Christ of Latter-day Saints. He attended Brigham Young University and received a Bachelor of Arts and a Masters of Arts degrees. Dad was a school teacher for many years in Kodiak, Alaska, and later moved to Clarkston, where he taught at Walla Walla Community College before retiring and pursuing his love of art. He enjoyed painting, reading, watching Westerns and he loved going on adventures, checking out ghost towns and visiting family. Dad loved the outdoors and always dreamed of sharing a cabin with his family on Afognak Island.
Bill is survived by his wife, Mary; his five children, Mary Lynn Winegarden, Patrick Fearn, Todd (Victoria) Fearn, Taletha (Alan) Gertz and Sherra (John) Peterson; grandchildren Amber Winegarden, Devan, Grau and Adam Phillips Fearn, and Skylar, Aiyana and Cayleb Gertz; great-grandson Jasper Grau; and siblings Wilma Cornia David Garth (Georgia Fearn) and Jan (Van) Lofgreen.
Special thanks to Mandy Grice, dad's helper. She means the world to us for her care and support for our dad. You brought so much joy to him and keeping everyone up to date with pictures and videos.
The Fearn family also would like to express their thanks and appreciation to the staff at Wedgewood and Hospice care.
The family suggests donations be made to U.S. Bank in care of William T. Fearn for final expenses.
Condolences
Barbara Herget
I was one of Bill's many cousins. I didnt know him well . but had good memories of his positive attitude, zest for learning, and love for his family. I have memoreis of his family visiting us in Portland & when my sister & I were about 10 & 11, we spent a summer in Burley, Idaho with his mom, Aunt Edith. Bill, who was 4 years older, was charged with helping to entertain us - and he did so with a positive attitude. I remember his little apartment in Portland when he was taking some classes here. Most of my memories come from stories and information from his mother (who was very proud of him).... and from his Christmas letters - where he showed his love and pride for his family. A friend of his sent me a message - "I always admired his kind, nonjudgmental heart." Because of this attitude and his kindness, he held no grudges for anyone who did him harm. He told me a couple of months before he died that he wanted to visit Alaska again ... I am glad that he will get his wish when his remains are sent there.....and with his religious beliefs, he will be reunited with his family who passed before him.
Saturday, September 22, 2018 8:43 PM
Cherie Murray
Brother Fern was one of the kindest men I knew while living in Kodiak for 10 years. He will always be remembered as quiet, helpful, & a member ready to help when needed. He & Mary were friends of myself & my husband, Pete Murray. God Bless the family during these days of loss.
Saturday, September 22, 2018 11:22 AM
Offer Condolences