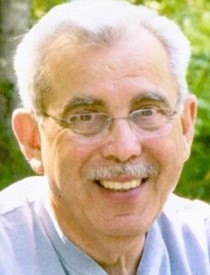 William P. Galano
11/16/1943 — 1/14/2023
William Peter Galano, 79, of Lewiston, died Saturday, Jan. 14, 2023, from complications of congestive heart failure.
Bill was born Nov. 16, 1943, in Lewiston. He was the first-born child of Harvey and Angie Galano, and according to his sisters, Carol and Mary, was the "favorite." The number of baby photos of Bill found around his childhood home compared to those of his younger siblings suggest that this is true.
Growing up, "Billy Pete" was the youngest in his class, which reinforced his natural shyness. In fact, the quote he used in his yearbook was, "Never had the gift of gab." He developed a passion for the great outdoors at an early age and, when school wasn't taking up his time, more often than not he could be found with a fishing pole in hand.
Bill graduated from Lewiston High School in 1961. He would go on to get a degree of history from the University of Idaho in 1967 and a doctor of optometry from Pacific University in 1971.
Bill moved back to Lewiston in 1974 to open his own practice in optometry. He loved his patients and had a special knack for working with people who weren't excited about wearing glasses. Bill loved working so much that he delayed retirement until 2015 at the age of 72. It's a point of pride to his family that, even today, only positive reviews can be found online about his practice.
His father, Harvey, died when Bill was in college, and Bill would ultimately go on to be a pillar of support to his mother, Angie, for the rest of her life. The two of them had a special bond and were "partners in crime" in spoiling the kids in the family. Root beer float and toy shop runs were a specialty of his.
He loved his nephews Tony Nance, John Nance, Ryan Barnes and Justin Barnes, and his niece, Melissa Barnes. When Bill's brother-in-law, Jim Barnes, passed away in 1984, Bill was among a wonderful group who stepped in to help raise the Barnes kids. He taught Ryan and Justin how to hunt and fish, and he put his shyness and dislike of the spotlight aside for one memorable night to partner 8-year-old Melissa at the school square dance. We think that is the first and last time he do-si-doed.
His nephews and niece loved him. Uncle Bill became a legend to all of them when he took them on a camping trip to Spring Valley and caught a sleeping fish out of the water with his bare hand. With his bare hand. That same trip, every kid caught their limit of fish. It's possible that some exceeded their limit. It's also possible that Uncle Bill helped the kids smuggle a few extra fish home. "Catch and release" was a concept that took a little more time to teach.
Bill loved lemon meringue pie.
He loved the Fourth of July. If fishing adventures made him legendary to his niece and nephews, his investments in Fourth of July fireworks made him a hero. He believed, "more is more."
He loved to take those he cared about out to breakfast and out to lunch. He became a regular at a number of spots around Lewiston and Clarkston and made it a point to learn the names of his favorite servers. Bill knew how to tip, too.
Bill believed in public service. He was a member of the Lewiston Lions Club for many years and was elected president in 1985. He also supported the Rocky Mountain Elk Foundation for many years. You could often find him parking cars at the Lewiston Roundup and Demolition Derbies.
Bill is survived by his sisters Carol Nance (Mick) and Mary Barnes Ralston (Dale), and his nephews and niece and their children. Bill was 100% Italian, and he is the last of the Galano line which immigrated to the area in 1903.
A rosary will be recited at 10:20 a.m. with the funeral Mass celebrated at 11 a.m. Wednesday, Jan. 25, at All Saints Catholic Church, 3330 14th St., Lewiston.
Donations may be made to the Lewis Clark Animal Shelter or the Northwest Children's Home.
Service Information
Date & Time

Wednesday, January 25, 11:00 AM

Location

All Saints Catholic Church
3330 14th Street
Lewiston, ID 83501

Get Directions

Additional Details

Rosary will be held at 10:30 a.m.
Condolences
Shannon Squires
My heartfelt condolences to Bill's family. As a neighbor and life-long friend, I always enjoyed my visits with Bill, even though he did not have "the gift to gab"!
Shannon & Bill Squires
Friday, January 20, 2023 8:11 AM
Offer Condolences