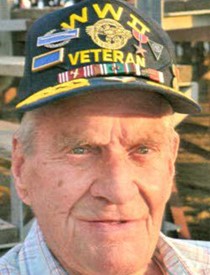 William "Robert" Welch
6/24/1926 — 9/29/2018
Early in the morning of Saturday, Sept. 29, 2018, Bob Welch, 92, passed away at the Idaho State Veterans Home in Lewiston.
William Robert Welch was born June 24, 1926, in Lawrenceburg, Tenn., to William and Grace Welch. To help out his family, he quit school at an early age to work in the mines.
At age 17, Bob left home and the mines to serve in the U.S. Army from 1944 to 1950. He was recognized with several medals, including a Bronze Star for meritorious service during World War II, which included participation at Normandy, Brittany, Battle of the Bulge, the Berlin Airlift, Rhineland and Central Europe. Toward the end of the war, he helped with the capture and movement of 20,000 Germans in one day in western France.
Following his service to our country, Bob moved to New Jersey and served 11 years as a fire chief and volunteer firefighter. In later years, he settled in Deary for a few years before moving to Lewiston, where he worked for the Lewiston School District in building maintenance.
Bob loved music and dancing until he lost his hearing several years ago. He was a fantastic dancer, always taking his favorite gal, Neva, dancing in his best dress clothes. Bob donated and volunteered his time and energy as well as maintaining life memberships in all the local veteran organizations in the valley.
Bob loved the outdoors and fishing, keeping up the yard, lovingly caring for his precious roses, painting birdhouses, rocks and when his shoes were a bit scuffed up, using a can of aerosol paint to "shiny them up," too. His favorite colors were red, white and blue, with an American flag always flying in his yard. Bob, you will be very much missed.
Arrangements have been entrusted to Vassar-Rawls Funeral Home in Lewiston, and Bob's cremains have been sent to Arlington Memorial Cemetery for burial. Any memorials in honor of Bob can be given to the Lewiston Veterans Home. At his request, there are no services planned.
Offer Condolences