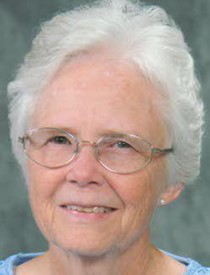 Winifred Belle Hepburn
1/16/1929 — 1/7/2019
Winifred Hepburn went to be with the Lord on Monday, Jan. 7, 2019.
Winifred was born Jan. 16, 1929, in Tonasket, Wash., to John and Hazel Gillespie. She had three brothers and is survived by her younger brother, Larry Gillespie, of Okanagan, Wash. Winifred was working for Pacific Telephone & Telegraph Co. in 1946 when she met and married Henry Harrison Hepburn. They settled in Lewiston, where he had his own home construction firm. They had three children. A son, Henry Jr., died in 1983, and she is survived by her daughters, Lin Hepburn Hall of Lewiston and Patricia Marie Jacks of Peck.
While her children were growing up, Winifred was active in PTA, was a leader and then field director for Campfire Girls and taught Sunday school at Orchards United Methodist Church. Winifred went to work for Goodman Oil Co. in 1972 as a bookkeeper and receptionist. She became the credit manager-general manager and assistant to the sales manager as the firm expanded into Washington and Oregon and started a separate fuel transport delivery service. She was with the firm for 19 years. Winifred's hobbies included reading and gardening. Bird watching was her love, and she traveled to many places in our country where she could "see a new bird." She had leadership roles over the years and remained active in the Priscilla Whitman Mother's Club, the Canyon Birders and Orchard's United Methodist Church. She enjoyed line dancing twice a week.
A celebration of life service for Winifred will be held at 11 a.m. March 2 at Orchards United Methodist Church. There will be a dinner for family and friends after the service at the church.
Offer Condolences