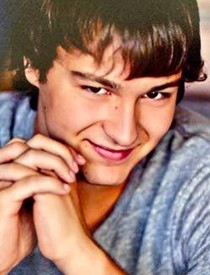 Zachary L. Taylor
4/22/1995 — 9/11/2021
On Saturday, Sept. 11, 2021, Zachary Lee Taylor, loving son, friend and fur dad, passed away suddenly at the age of 26.
He was born April 22, 1995, at St. Joseph's Hospital to Tarina Taylor (Watkins) and Jud Taylor of Lewiston. He graduated from Lewiston Senior High and worked for some time at ATK. Zach is survived by his mother and father; sister Ashley Teeter (Taylor) and her husband, Destry Teeter, and their daughter, Georgie; brother Jack Taylor; paternal grandparents Reed and Donna Taylor; maternal grandparents Gwen and Lanny Watkins; as well as a large and loving extended family who will miss him deeply.
Zach was a big personality, known for his unending love of music, skateboarding, family and his dog, Tucker. He had a huge, kind heart and loved with every inch of it. If you ever had the pleasure to be hugged by Zach, you definitely knew that you had been really hugged. He wrapped up the ones he loved in his arms and held tight, making it clear how much he cared for them.
Zach was happiest when he was listening to, experiencing or sharing music. He cherished his times at music festivals and delighted in finding a new song, which he would then share across his friend and family groups. When Zach's cousin was born with Williams Syndrome and Zach learned that children with Williams Syndrome connect to and love music, he immediately declared he would be the first to take him to a concert and introduce him to live music.
Zach had a laugh that was as loud and uninhibited as it was contagious. His laughter filled a room, and even if you didn't think what was said was funny, you were drawn in to laugh along. His humor carried through every part of his life, whether he was acting goofy to make others smile, or the fact that he used "LOL" like a period on the end his texts. "Hey what are you doing, LOL." "Wanna get some food, LOL." In all things, Zach was looking to keep things light and enjoy the little things in life.
He was taken far too soon from this life. His song was still being written, the lyrics unfinished. He had so much more to left to do and see, verses to pen and choruses to happily sing along to. His song will live on in the hearts and minds of his family, friends and loved ones, forever on repeat, Never forgotten. We love you, Zach. Rest in peace.
We will be holding a small celebration of life from 11 a.m. to 2 p.m. Sunday, Sept. 26, at the Riverport Brewing Company, 150 Ninth St. Suite B, Clarkston. The family requests that guests either be fully vaccinated or wear a face mask to attend. In lieu of flowers or gifts, the family would appreciate donations in Zach's name to either the Williams Syndrome Association at williams-syndrome.org or to the Lewis Clark Animal Shelter at lcshelter.org.
Service Information
Date & Time

Sunday, September 26, 2:00 PM

Location

Riverport Brewing Company
150 9th Street
Clarkston, Washington 99403

Get Directions
Offer Condolences