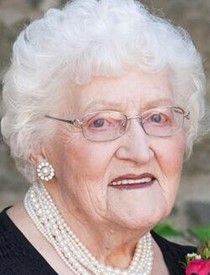 Bernadine E. Wessels
6/12/1926 — 11/10/2023
After a long and productive life, Bernadine E. Wessels of Lewiston passed away peacefully on Friday, Nov 10, 2023, at TriState Health in Clarkston surrounded by family and in the loving care of the compassionate hospital nursing staff and St. Joseph Family Hospice. She was 97.
Bernadine was born June 12, 1926, in Greencreek to Leo Schumacher and Mary Schmidt Schumacher, the fifth of eight children. She had a bucolic family life growing up on the farm, which also required long hours of demanding work, both inside and outdoors. Being a bit of a tomboy who was especially close to her dad, "Bernie" was his sidekick, helping him with all the required chores. Even though her family experienced the challenges of the Depression and World War II, it was an idyllic upbringing. She attended grade school in Greencreek, played the tuba in the Greencreek High School band and graduated in 1944.
As with all members of the Greatest Generation, World War II put their lives "on hold," and when the GIs returned after the war ended, Bernadine shared a few special waltzes at one of those infamous Greencreek Community Hall dances with Harold Wessels on an evening in June. Exactly seven months later, Bernadine married Harold on Jan 8, 1947, at St. Anthony's Catholic Church in Greencreek. When the good Lord said, "Go forth and populate the Earth," Harold and Bernie took him seriously, bringing into this world 10 children. Over the years, they raised their growing family in the Idaho communities of Greencreek, Cottonwood, Coeur d'Alene and Lewiston, finally settling there in 1961.
While still raising young ones of her own, Bernie started caring for the children of friends and neighbors in her home. It was one, big, happy, messy family. The mess, however, was always completely cleaned up by all of us before dad got home from work and the nightly family dinner was served. For a short time, she also helped prepare and serve meals at what was PFI's executive guest house on Normal Hill. When her youngest entered grade school in 1969, Bernie began a 19-year career at Omark Industries (now Vista Outdoor), working as a quality control inspector until her retirement in 1988 when it was Blount.
Bernie will forever be in the hearts of all who knew her and is lovingly survived by her devoted children Kathy Heinemeyer, Marg (Gordon) Strong, all of Lewiston, Donna (Ray) Painter of Walla Walla, Doris Leonard of Benton City, Wash., Ken (Karen) Wessels of McMinnville, Ore., Ed (Lana) Wessels of Council, Idaho, Debbie (Dan) Moser of Lewiston, daughter-in-law, Rebecca Wessels, of Fort Walton Beach, Fla., Diane (Rick) Murray of Coeur d'Alene, Ray Wessels of Tucson, Ariz., and Kim Wessels of Boise; plus 21 grandchildren, 30 great-grandchildren, and two great-great-grandchildren. Her only surviving sibling is Monsignor Andrew Schumacher of Lewiston, and she is also survived by her in-laws, Margie Schumacher of Greencreek, Waltraub "Teddy" Wessels of Wasilla, Alaska, Dorothy (Don) Keuter of Tacoma, and Irene Wessels of Greencreek; plus 68 nieces and nephews.
Bernie was preceded in death by Harold, her husband and waltzing partner of 57 years, her son Albert Leo Wessels, her grandson Karson Lee Wessels, and her sons-in-law Michael L. Heinemeyer and Michael J. Leonard, her parents and her siblings and their spouses Leona (Arnold) Wassmuth, Lawrence (Clara) Schumacher, Roman (Anna Marie) Schumacher, Estella (Charles) Wilson, Rita (Donald) Wessels, and Ambrose Schumacher; her in-laws, Rita (Clarence) Wassmuth, Marcella (Robert) Uhlenkott, Sister Mary Edward (Viola) Wessels, O.S.B., John Wessels, Sister Mary Bernice (Wilma) Wessels, O.S.B. and Elmer Wessels.
The funeral Mass will be celebrated at 1 p.m. Monday, Nov. 20, at All Saints Catholic Church, 3330 14th St., Lewiston. Vassar-Rawls Funeral Home of Lewiston is in charge of arrangements. Donations may be made to the Monastery of St. Gertrude in Cottonwood or to All Saints Catholic Church.
Service Information
Date & Time

Monday, November 20, 1:00 PM

Location

All Saints Catholic Church
3330 14th Street
Lewiston, ID 83501

Get Directions
Offer Condolences