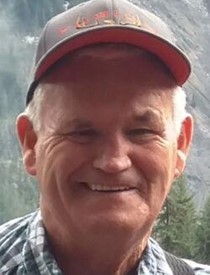 Dennis L. Nordin
5/5/1948 — 11/9/2023
Dennis Lee Nordin "Elk," 75, of Lewiston died on Thursday, Nov. 9, 2023, at home.
Dennis was born May 5, 1948, in St. Maries, to Albin and Isabel Jackson Nordin. They lived in a country home in Benewah County where Dennis and his siblings grew up.
On July 10, 1971, he married the love of his life Nancy A. Swearingen in Elk River. They enjoyed 52 years of marriage together.
He was a dedicated hardworking man that had a passion for working in the logging industry. He worked for several logging companies in the surrounding area. He worked many years as a tree feller for H&W logging. While working for H&W logging, he gained the nickname "Elk" from his fellow crew members. He was proud of his work and often liked to talk about the largest tree he ever felled. It was a cedar tree that was 10' 4" across the stump. He also served his community working at the Salvation Army kitchen.
Dennis loved to spend time in the mountains hunting big game with his son, grandkids and family as well as fishing, camping, mushroom hunting and huckleberry picking. He also loved to watch football and was a dedicated Seahawks fan.
Dennis is survived by his wife Nancy A. Swearingen Nordin; son Chad Nordin; grandchildren Trista Nordin, and Nathan Nordin; great-grandchildren Nico Buono, and Triston Thompson; brothers Edward Nordin, and Sandford Nordin; sister Ellen Nordin Whitman; numerous nieces and nephews; and bonus son Wayne Simpson and bonus daughter Debbie Blackburn.
Dennis is preceded in death by his father Albin Nordin; mother Isabel Nordin; sisters Caroline Hodgson, and Francie Schempf; brothers Bob Nordin and Wayne Nordin; nephews Jeff Nordin; and Glenn Nordin.
The family would like to thank the Elite Home Health and Hospice team that provided care for Dennis and the outpouring of love and support from family and friends during this very difficult time. A celebration of life will be held at a later date.
Offer Condolences