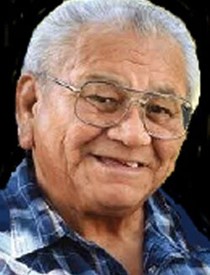 Gary J. Broncheau
8/13/1934 — 11/4/2023
Gary James Broncheau passed away peacefully at his home Saturday, Nov. 4, 2023. He was 89 years old. Gary was born in August of 1934, to James Jacob "JJ" and Susan James Broncheau. Gary was an enrolled member of the Nez Perce Tribe. His grandfather, Timothy James, was a child survivor of the Nez Perce Indian War of 1877.
Gary attended St. Joseph Mission School for seven years and was an altar boy at the St. Joseph Mission Catholic Church. He attended Culdesac Public School where he played high school basketball and football. After high school he played with the Nez Perce Nation basketball team from 1956 to 1969. Gary was proud of the many Indian tournaments won by the Nez Perce Nation basketball team, including the 1964 World All Indian Championship in Chiloquin Oregon. His wife Peggy teased "He should have married a basketball."
Gary married his high school sweetheart, Peggy Jean Robinett, on Aug. 14, 1954, in Lapwai. They were married 67 years and raised five wonderful children. Their young family experienced tragedy in 1959 when their two-year-old son, Warren Anthony, drowned in Mission Creek. Peggy passed away in 2021.
Gary worked hard all his life and was never without a job, sometimes working two jobs at once. He loved working for the local farmers and ranchers. He was well known for his ability to toss a haybale to the top row of the hay truck. He worked for seven years with his Dad J.J. as a powder monkey for Lewiston Lime Company on Mission Creek. He inherited a small herd of cattle from his Dad J.J. that over the years turned into a few spoiled pet bossies. He tried logging for a brief time and worked for the Lapwai Highway District for four years. Gary was most proud of his career as a railroad bridge carpenter. He worked for the Burlington Northern and Camas Prairie Railroad for 29 years, retiring in 1994. Standing on top of his beloved Half Moon train trestle was his "office with a view." His railroad family meant a great deal to him. They hunted, fished and camped together for many years.
Gary's "social" friends will remember his talent for finger snapping usually followed by a hearty rendition of "Kaw-Liga" or "Easy Loving" with his canine side kick Howie always at his side. He was a big gentle man who enjoyed sharing stories and his big bear hugs with his friends that he made wherever he went. In 2013, Gary and Peggy were the grand marshals for the Culdesac Shebang Days parade.
 Gary enjoyed tilling Peggy's garden and sharing their garden bounty with family and friends. He was a weed wacker warrior and the Broncheau lawn was the envy of the creek. Gary loved the outdoors, and no mountain was too high for a good hike to the top. Gary's most memorable hikes were Buffalo Hump, The Seven Devils and the last one up Mount Borah with his son Mike, daughter-in-law Barb, grandsons James and David and wife Peggy. The annual Christmas tree hunt became an all-day hunting expedition with his kids in tow walking miles and miles searching for the perfect family Christmas tree for Peggy to decorate. His children remember all these adventures fondly.
 He was preceded in death by his wife Peggy, his parents, his brothers Anthony and Kenneth, his sisters Bernice and Elsie, his young son Warren, and his beloved dog Howie.
Gary is survived by his faithful cat Moxmox, his children, Mike and Barb Broncheau, Pam and Scott Reisdorph, Becky and John Quinn and Mark and Jaclyn Broncheau; his grandchildren, James and Tiffany Broncheau, David and Sara Broncheau, Allie Rae Broncheau and Daniel Reisdorph; his bonus grandchildren, Avery, Reille, Jazmin, Joe and Jillian, Chris and Mazy, Leah and Taylor; his great-grandchildren, Autumn, Sheen, Kaitlynn, Emily, Enzo, Sunshine, River and many cousins, nieces and nephews.
At Gary's request there will be no funeral service. A viewing will be held at 5 p.m. Friday, Nov. 17, at Vassar-Rawls Funeral Home, 920 21st Ave., Lewiston. A celebration of life is planned for a later date.
Gary's family extends a heartfelt thank you to the Nimiipuu Health staff for providing expert care with dedication and kindness. And a special thank you to Gary's sister-in-law Marge for her Friday lunch dates.
Service Information
Date & Time

Friday, November 17, 5:00 PM

Location

Vassar-Rawls Funeral Home
920-21st Avenue
Lewiston, Idaho 83501

Get Directions
Offer Condolences