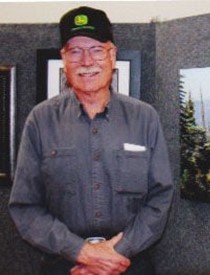 Roger Lee Inghram
2/2/1938 — 11/10/2023
The tracks he leaves behind …
A quiet man with a kind and giving heart, Roger Lee Inghram, 85, of Grangeville, passed away Nov. 10, 2023 at Daley Senior Care in Culdesac, Idaho.
Roger was born Feb. 2, 1938, in Lewiston, to Donald B Inghram and Doris Jakey Inghram. His early years were spent in Hall, Montana and Elk City, with an older sister, June and a younger sister, Myrna, as their father was Dredge Master for H & H Mining. He attended school in Hall and Elk City until the family moved to Grangeville, Idaho in 1950, so June could start high school. Roger attended Grangeville Schools from 7th grade, graduating from GHS in 1956. Roger was very active in football, basketball and track, lettering in every sport every year.
Roger enlisted in the US Army, serving in Germany in the 10th Mountain Division from 1956-58. He returned to Grangeville and renewed a friendship with Janice Browning.
Their first date was a hike to the top of Buffalo Hump, thus establishing a mutual love of the outdoors and a love for each other. They married in June 1961, celebrated 62 years of marriage this year. Roger worked in the lumber industry, finishing with Denton & Sweet Logging in 1963. He went to work for Idaho County Light and Power Co-op as a lineman and retired after 31 career years as Line Superintendent in 1994.
The years spent in Elk City instilled a lifelong love and respect of nature. This love and respect later made him an ethical hunter of elk with a rifle and later with a bow, which he eventually gave up for nature photography. In his words "no bag limit and no season".
Together Roger and Janice built two homes and a cabin. His retirement years were spent being the trail coordinator for the North Central Idaho Back Country Horsemen.
He was proud to have received a 500 Miler Award for 29,000 miles of trail riding and projects. He especially was proud of his volunteer work as a photographer/videographer for Region 1 USFS Northern Region Pack Train.
Roger was an accomplished artist and craftsman, he spent many hours taking professional photos and making videos of nature with a special interest in osprey. He created rock walls and fireplaces, made pack boxes for the USFS pack train, rocking donkeys and rocking giraffe and many bird houses and also was a featured artist for the Christmas REA Ruralite magazine for many years.
Roger was a man you could always count on and was always helping others, always willing to lend a helping hand. Roger could often be seen between Mt Idaho and Grangeville picking up garbage along the roads for recycling.
Roger had a love of Siberian Huskies and throughout the years had five husky dogs.
Roger was preceded in death by his parents Don and Doris, his sisters June Kiilsgaard and Myrna Brannan and his sister-in-law Dawn Lester Gortsema. His dogs Dana, Nikki, Heidi and Kodi 1.
Roger leaves behind wife Janice, dog Kodi 2 and horse Teddy Roosevelt. He also leaves nieces Deena Rauch, of Moscow; Jeannette Thompson, of Spokane; Laurie Lester, of Asotin; nephews Scott Brannan, of Nine Mile Falls, Wash.; J. Craig Lester, of Pullman; and Wes Lester, of Grangeville; and many special friends including neighbor and friend Mary Ann Davidson, of Grangeville; and Doug Hunt, of Florence, Mont.
Janice and the family would like to send a special thank you to Beau, Suzanne and Mike at Daley Senior Care for their loving care.
A private family service will be held at a later date. Donations in memory of Roger may be made to Advocates for the West PO Box 1612 Boise, Idaho 83701.
Happy Trails …
Offer Condolences